AI World Conference: Catching a fraudster
Jo-Ellen Abou Nader finds the needle in the fraud, waste and abuse haystack.
---
$68 billion dollars. That's the amount the National Health Care Anti-Fraud Association estimates health care fraud costs the nation annually. That is 3% of the national overall health care spend. It is imperative that pharmacy benefit managers (PBMs), like Prime Therapeutics, have the right tools in place to help drive down system-wide fraud, waste and abuse.
Jo-Ellen Abou Nader, vice president of fraud, waste, and abuse and supply chain optimization at Prime and Dr. Steve Kearney, medical director at SAS co-presented the session at the AI World Conference in late October to 150 analytic and technology experts, health care consultants and other health care professionals.
---
---
But fraud, waste and abuse can be hard to find. It's like a needle in a haystack that constantly evolves. Over the last 10 years, fraud schemes have included phantom pharmacies, diabetic test strips, compounded drugs and telemedicine.
Regardless of what the scheme looks like or what medicines are involved, Prime shared its method to catching fraudsters at AI World. Prime uses a highly effective, two-tiered approach to identify and eliminate fraud, waste and abuse in all forms. Through advanced analytics, powered by SAS – an artificial intelligence vendor that powers data to identify fraud risk – Prime finds bad-acting pharmacies, prescribers and members that add waste and cost to the system.
One powerful tool in the SAS toolbox is the visualization web. "This graphical representation of how pharmacies are connected to prescribers and members is incredibly powerful," said Abou Nader. "This type of webbing and connection research could take dozens, if not hundreds, of manual labor hours. But with the SAS tool, we are able to quickly see if there are prescribers that are connected to pharmacies, that we have also identified as a fraudulent."
---
Visualization web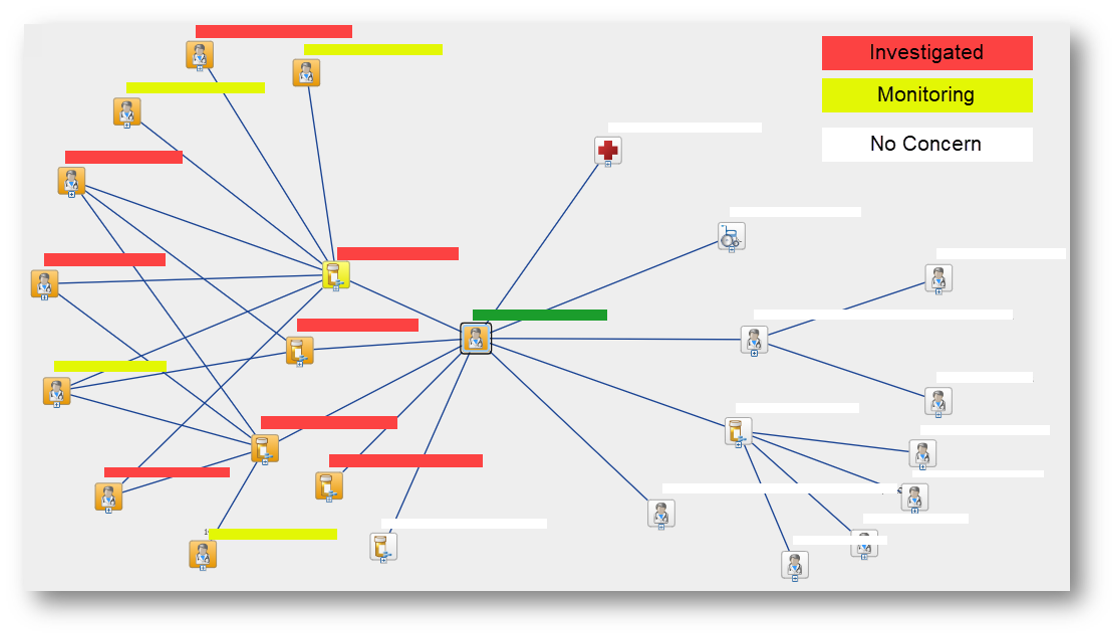 ---
Continuous improvement is imperative to success. Learnings, whether successful or not, should be shared – shared between SAS and Prime, and among Prime and its Blue Plan partners. It is integrated pharmacy and medical claims data that paints the comprehensive picture to fraud, waste and abuse. The Blue Plans can facilitate their own investigations as well after taking the information from the SAS-powered Prime platform. It truly is a collaborative effort.
"All of these pieces need to be in place – the right partners, the right technology and the right data," added Abou Nader. "Prime is on the leading edge of this work in our industry. We continue to work to stay ahead in this rapidly changing field."
---
About Prime Therapeutics
Prime Therapeutics LLC (Prime) makes health care work better by helping people get the medicine they need to feel better and live well. Prime provides total drug management solutions for health plans, employers, and government programs including Medicare and Medicaid. The company processes claims and offers clinical services for people with complex medical conditions. Prime serves more than 28 million people. It is collectively owned by 18 Blue Cross and Blue Shield Plans, subsidiaries or affiliates of those plans.
Follow @Prime_PBM on Twitter.
Sign-up for regular news announcements from Prime Therapeutics.