You're the link between our members and their medicine.
They count on you for the information they need
about their prescriptions.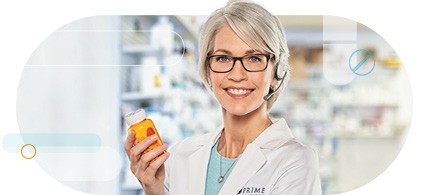 Your resources
You can count on us to help you find the information you need:
A dedicated 24-hour pharmacy contact center
Ongoing communications about plan changes and additions
Regular news and updates on current pharmacy topics

Medicare
---
Each Pharmacy or Pharmacy Services Administration Organization (PSAO) participating in Prime's HI and LTC networks must annually validate they are able to follow the guidelines outlined in Prime's HI and/or LTC pharmacy networks.
Failure to validate may result in termination from Prime's HI or LTC networks.

Long Term Care Validation
Home Infusion Validation

Please note, if you are participating in both Prime's Long Term Care and Home Infusion networks, you need to complete both validation forms.
Compliance/Fraud, waste and abuse
---
Every pharmacy in Prime's network must do the following to meet compliance requirements:
Training: Provide CMS' "Medicare Parts C and D General Compliance (April 2020)" and "Medicare Fraud & Abuse: Prevent, Detect, and Report (February 2020)" training to each pharmacist and pharmacy staff member upon hire and annually thereafter. CMS training is available on the CMS website through their MLN Learning Management System (LMS).
Certification: Complete the FWA Certification form that is part of your pharmacy profile on NCPDP. Download instructions
Record keeping: Maintain internal training logs.
Policies and procedures: Maintain internal training protocols.
Pharmacy audits

---
Report compliance, privacy, or fraud, waste and abuse concerns
---
Drug pricing information